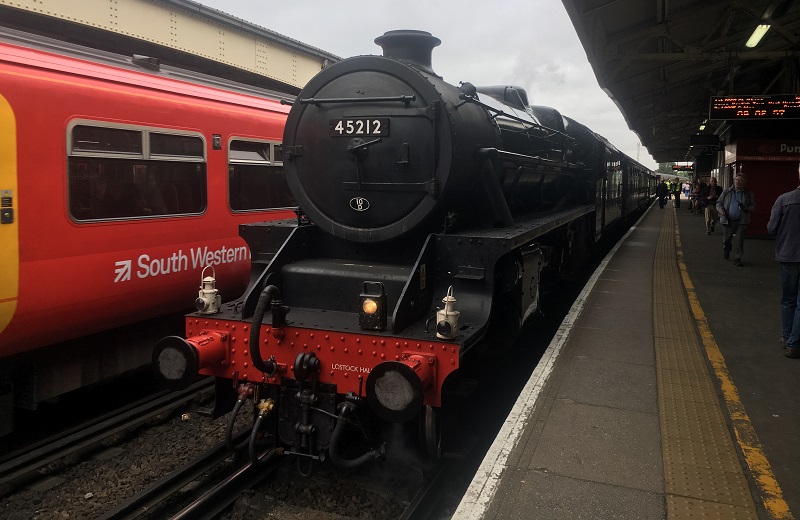 Delighted railroad enthusiasts were treated to a rare sight on Saturday as a passenger steam train passed through southwest London for the first time in nearly five years.
The Cathedral Express, pulled by a Black Five locomotive, passed through Tooting and stopped at Wimbledon to pick up nine of its 300 passengers.
Unsuspecting spectators and avid enthusiasts took photos on their smartphones of the historic train, operated by the Steam dreams railway company, called at Wimbledon en route to Portsmouth harbor.
Volunteer steward Timothy Davies, from Farnham, said: "It's an exciting day for steam train fans as we don't stop at Wimbledon often, a lot of our trips wouldn't even go down that part of the line. main. "
He added: "There will be people on the platform who have come specifically to see the train stop here, but along the way I expect to see people in the fields, at the stations and on railway bridges hoping to glimpse. "
It was by chance that the train stopped in the famous tennis district of Merton: Steam Dreams was the brain child of Marcus Robertson, whose mother wrote about Wimbledon's most famous residents, The Wombles.
Mr Davies, whose duties include welcoming guests and assisting with boarding, said: "Marcus is still one of the most important people in the business and I'm sure there is much affection for Wimbledon.
"!
Although the company picks up passengers at over 100 stations across the UK each year, the last time a steam train passed through the two stations in South West London was in December 2013 .
Sally and Jeff Armitage, of Sutton, enjoyed several days and vacations aboard steam trains, but this was the first time they could embark at Wimbledon.
Ms. Armitage said: "It is unique to come here, a short bus ride from home."
She added: "The trips are wonderful – such an experience. The staff are very attentive and the food is excellent.
Lucky Premier and Pullman passengers received a champagne breakfast on the outward journey and a three-course dinner on the return.
The cars, complete with white tablecloths and table lamps, were pulled by the LMS Stanier Black Five 45212 which was built at Armstrong Whitworth in 1935 and returned to the main line in 2017.
The locomotive is one of 18 "Black Fives" to survive in preservation.
Joe Brothwell, of Hither Green, was taken aback by the special duty as he waited for his train at platform number 9 at Wimbledon.
He said: "It was great to see a steam train this morning and totally unexpected – it's not like it's on any of the panels.
"I felt like I had been transported to another era. It was a very cool thing to see and I'm so glad I was early for my train for once!
Source link